Previous Medal Winners
2019 Medal Winner – Associate Professor Nicholas Huntington
Cancer immunotherapy researcher Associate Professor Nick Huntington has won the Dr John Dixon Hughes OAM Medal for Medical Research Innovation in recognition of influential research to supercharge the body's immune response against cancer.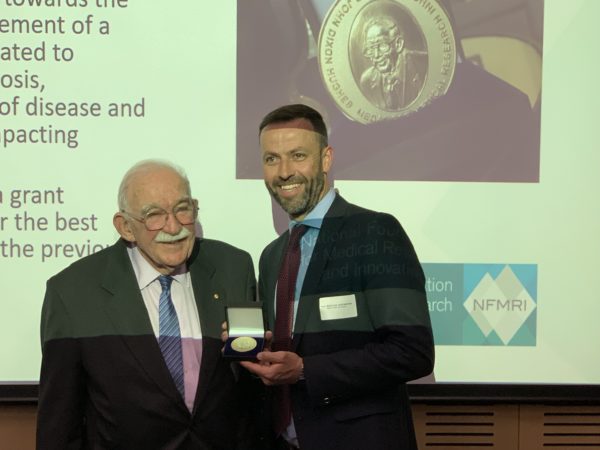 As an immunologist and laboratory head at the Walter and Eliza Hall Institute of Medical Research, Associate Professor Huntington has made major discoveries in the field of immune regulation and immunotherapy over the last six years.
In 2016 he spearheaded a program of pre-clinical Natural Killer (NK) cell research and drug development at the Institute that has since generated interest from the immunology and cancer fields and is poised to have a profound impact in the quest to cure cancer.
Associate Professor Huntington said NK cells are known for their potent tumour-fighting ability "Using cutting-edge genomic editing and pre-clinical tumour models, we are working to better understand and harness the ability of NK cells to 'seek and destroy' cancer cells," he said.
"Despite their discovery in the early 1970s, NK cells have yet to be effectively targeted in the clinic for cancer treatments. We are striving to discover new drug targets and develop gene modifying techniques that supercharge the anti-tumour immune response of NK cells."
To date, Associate Professor Huntington's pre-clinical NK cell research studies have seen some promising results in the laboratory by preventing melanoma, breast, prostate and lung cancer metastases from developing and reducing the onset and growth of sarcomas, breast and colon cancer.
Together with the Institute's leaders in structural biology, medicinal chemistry, high- throughput chemical screening and proteomics, Associate Professor Huntington has an ongoing collaboration with a pharmaceutical company to progress the research discoveries of his laboratory and co-develop small molecule inhibitors for cancer immunotherapy.
National Foundation for Medical Research and Innovation CEO Noel Chambers congratulated Associate Professor Nicholas Huntington saying, "Nick's contribution to biomedicine and immunotherapy signals his emergence as one of the world's leaders in cancer immunology and innovation."
2017 Medal Winners – Prof Mark Kendall and A/Prof Michelle McIntosh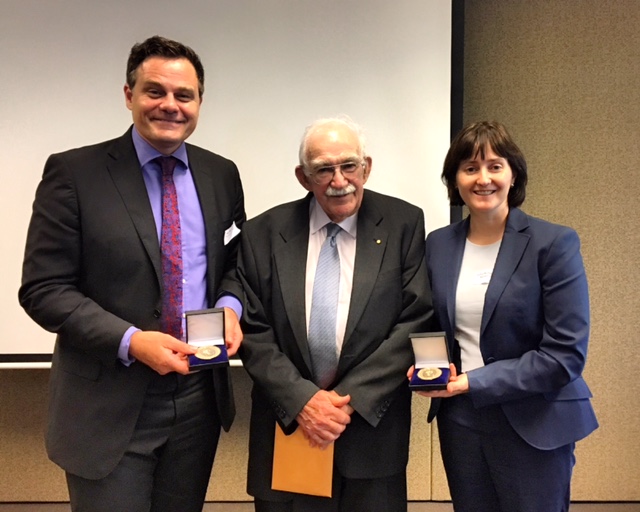 Dr John Dixon Hughes OAM (middle) awards medals to Prof Mark Kendall (left) and A/Prof Michelle McIntosh (right)
The National Foundation for Medical Research and Innovation (NFMRI) announced joint winners of the Dr John Dixon Hughes Medal for Medical Research Innovation in December 2016 at the NFMRI Awards Night in Sydney.  In the presence of industry, business and research experts, successful researchers from across the country received funding to support the advancement of their innovations.
The Medal, developed in honour of Dr John Dixon Hughes OAM (NFMRI's longest standing Trustee) to showcase and celebrate the achievements of Australia's recent biomedical research innovators, entails a $50,000 prize in the form of a research grant for each recipient and was awarded to both:
"Targeting the skin for needle-free, minimally invasive delivery and diagnostics for disease: Nanopatch"
Professor Mark Kendall is a world-leading innovator in producing technology solutions to global health problems; and a translator of commercial technologies focusing on delivery of drugs to skin and skin-based disease diagnostics.  Professor Kendall set himself the research and innovation challenge of asking the world to rethink the role of the needle and syringe as a method of both introducing vaccines to the body and extracting biological material.  He is the inventor of the patented Nanopatch technology, which has many advantages over the more than 160-year-old hypodermic needle.  The Nanopatch could level the global playing field in health, providing safe vaccinations to the developing world, potentially overcoming many of the challenges of the traditional needle as the design technology targets the immune-rich cells of the skin's out layers (the epidermis and upper dermis) with an array of thousands of micro projections on a single patch. With vaccines dry-coated to the patch, this eliminates the need for vaccine cold chain and removes the need for electricity networks which are so often unreliable in developing countries. Through his research, Professor Kendall has shown the Nanopatch generates equivalent and protective immune responses as the traditional needle, but only needs to deliver a small fraction of the dose (eg 1/100th) making this patch significantly cheaper and easy to apply.
and
"Development of an inhalable form of Oxytocin to prevent postpartum haemorrhage in resource-poor settings"
An estimated 830 women die every day (or 303,000 per annum) from problems related to pregnancy, the vast majority occurring in the poorest countries. Postpartum haemorrhage  (PPH) accounts for around 60,000 deaths per annum and is the leading cause of pregnancy related death in the developing world. Oxytocin is recommended by the World Health Organisation1  as the gold-standard therapy to prevent PPH, and it is recognised as the critical component of active management in the third stage of labour. However, it is currently only available by injection. As a solution, oxytocin requires refrigeration to maintain potency, a needle and syringe for administration, and the services of trained healthcare workers – all requirements that limit access to oxytocin in the countries where most of these preventable deaths occur.
Michelle's group at the Monash Institute of Pharmaceutical Sciences (MIPS) is working on an innovative approach for delivering oxytocin, which is set to revolutionise access to this gold-standard therapy for PPH. A dry-powder formulation  that can be inhaled by patients from a simple, disposable device immediately after childbirth is the well-defined outcome. This exciting and innovative approach dramatically removes the conventional limitations and it will bring an effective affordable solution to communities who are poor in health services. An inhalable formulation of oxytocin will greatly increase the likelihood that women in developing countries will receive this life-saving intervention during the critical minutes following giving birth. This hallmark development has the potential to prevent 41 million cases of PPH, and save an estimated 1.4 million lives every decade.
Dr John Dixon Hughes OAM said "that the nominations were simply of exceptionally high calibre, demonstrating the sector's progress and improvement of innovation commercialisation." He noted that the Foundation's research advisory committee felt it was impossible to compare and decide between the final two finalists and hence the Board made the decision to award two medals: one to Professor Mark Kendall, for his successes with the Vaxxas nanopatch vaccine delivery system; and one to A/Prof Michelle McIntosh for the development of an inhalable form of oxytocin to prevent postpartum haemorrhage in women from resource-poor settings.
2015 Medal Winner – A/Prof Guillaume Lessene
The National Foundation for Medical Research and Innovation (NFMRI) was pleased to offer the inaugural Dr John Dixon Hughes Medal for Medical Research Innovation in 2014 to A/Prof Guillaume Lessene, from the Walter and Eliza Hall Institute.  
Dr John Dixon Hughes OAM (right) presents inaugural Medical Research Innovation Medal to A/Prof Guillaume Lessene
A/Prof Guillaume Lessene, Walter & Eliza Hall Institute
A/Prof Lessene was recognised  for having broken boundaries in his research to discover and develop drugs that target apoptosis, and for his links with industry in commercialising products for clinical use. Apoptosis is a form of programmed "cell suicide" that normal cells undergo, but that some cancer cells have developed ways to resist. Having been nominated by pre-eminent peers, A/Prof Lessene's discoveries have led to a potential new anti-cancer agent that could trick cancer cells into committing suicide. The new class of drugs, the so-called 'BH3-mimetics' could have a profound impact on cancer therapy. "The clinical potential from this new class of drugs is extraordinary," says Professor Doug Hilton, director of the Walter and Eliza Hall Institute. He adds, "Other drugs in this class have already demonstrated profound responses in patients with blood cancers. We are very excited about the potential of the new agents being developed by Guillaume and his team for treating cancers that are resistant to cell death." Professor Hilton stressed that while the impacts of A/Prof Lessene's and his team's work was already playing out in both the clinical and commercial spaces, it would take decades for the full implications to be realised.