Dr John Dixon Hughes Medal
The National Foundation for Medical Research and Innovation (NFMRI) is pleased to offer the Dr John Dixon Hughes Medal for Medical Research Innovation every two years to a researcher under the age of 45 for outstanding contribution towards the development and advancement of a biomedical innovation related to the nature, prevention, diagnosis, treatment and incidence of disease and other health problems that have a significant impact on the health of humans.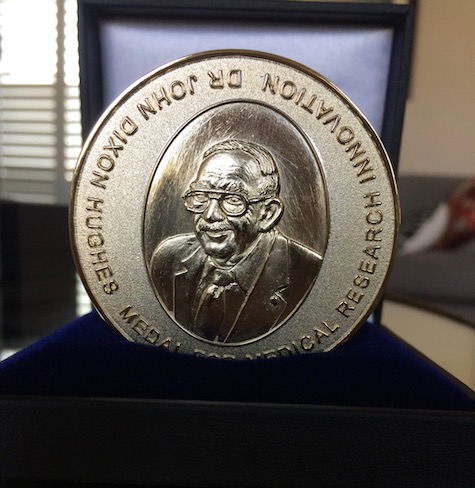 About the Award
The Award is named after our longest-standing Director and former Chairman of our Research Advisory Committee, Dr John Dixon Hughes OAM, who was a founding member of the Foundation in 1977. Dr Dixon Hughes OAM, an astute consultant general surgeon with over 55 years experience, remains an active, dedicated and passionate board member to this day and is an avid believer in the potential for philanthropy to support and advance innovation.
The medal will be awarded with a prize of $50,000. The prize will be in the form of a grant to support the research activities of the recipient. Nominations will be called for every other year and are treated as commercial-in-confidence.
The medal will be awarded to the researcher judged to be responsible for the best biomedical innovation and development paper published, patent taken out, or commercial-in-confidence report in the previous two calendar years.  Innovations will include Australian research and discoveries into new medicines, vaccines, biologicals, devices, tools or diagnostics.
Judging and Selection
The Directors of the Foundation will judge the award with support from the Research Advisory Committee.
The award may be shared if the judges agree that more than one applicant is equally worthy of the award.  If no suitable applications are deemed worthy of the award, the Foundation may elect not to offer the award in any particular year.
Nominations should include:
A cover letter outlining:

Importance of the innovation;
Role of the researcher;
Progress towards translation and/or commercialisation; and
A short non-confidential disclosure of the innovation (the type suitable for industry/investor review).

Copies of any papers published by the recipient as lead author associated with the innovation; and
Two written referees reports.
Nominations, together with supporting documentation from the candidate, should be submitted via this link. Submissions sent by email may not be considered.
Self-nominations are not accepted. The nominee must be under the age of 45 as at 1 October 2020. Nominations must be for an individual rather than a team.
The deadline for nominations has been extended and will now close at 6pm AEST on Friday, 15 May 2020.