Research Advisory Committee
The Research Advisory Committee (RAC) is comprised of eminent medical practitioners and industry executives from a broad range of specialisations, all of whom have been actively involved in research.
Their role is to determine the key research priorities of the Foundation, to guide the Board of Directors accordingly, to assess the suitability of funding requests and to monitor the ongoing research of successful research grant applicants. In instances where the RAC does not have sufficient knowledge in a given field, advice and guidance from an expert in that field is sought in order to properly assess the suitability of a research application for funding.
The RAC comprises of the following members:

Prof A. Ian Smith, Chairman (Director)
Professor Ian Smith joined NFMRI's Board of Directors in 2017 and was appointed as Chairman of the RAC in 2018. He completed his first degree in Newcastle upon Tyne England and moved to Australia in 1984 to complete his PhD at Prince Henrys Institute Melbourne and Monash University. In 1991 Ian moved to the Baker Heart Research Institute and was Associate Director until his move to Monash University in 2004. Ian is currently Vice-Provost (Research & Research Infrastructure) and has responsibility for the oversight and management of the universities research alliances and research infrastructure as well as developing and implementing strategies to meet future university infrastructure needs in these areas. Professor Smith is an accomplished medical researcher and is recognized as a leader in his field. His research applies proteomics technologies to study the proteases involved in the generation and metabolism of peptide regulators involved in both brain and cardiovascular function. This research has resulted in over 250 publications and many patents. Ian receives regular invitations to speak at international meetings, many as a plenary speaker. Ian was a co-founder of a proteomics-based, publicly listed, biotechnology company and he continues to collaborate and consult widely with the pharmaceutical and biotechnology industry. Ian serves on six international editorial boards and over the years he has held office-bearing positions in a number of national and international societies and organisations, he has held and continues to hold, a variety of national and international senior government and non-government advisory board/committee memberships.
Dr J Dixon Hughes OAM (Director)
John Dixon Hughes OAM has been a member of the NFMRI Board of Directors and Research Advisory Committees since 1977 and was Chairman of the Research Advisory Committee from 2000 until 2018. John is a consultant general surgeon with over 60 years experience.  He is a Fellow of the Royal Australasian College of Surgeons and was awarded the College Medal in 1990 and the NSW State Committee Merit Award in 2008 for distinguished service to surgery. He is an Approved Medical Specialist for the Workers Compensation Commission NSW for disputes and appeals and was formerly Chairman of Infection Control Advisory Group for NSW Health. In 1984 he was the convener and chair of the meetings of the Negotiating Committee for the New South Wales Medical Profession to resolve the "Doctor's Dispute" with the NSW Government. He was the initial Chairman of the Medical Services Committee of NSW, a statutory Committee to provide advice to the Government and the Ministry. He served in this role from 1984 to 1996 and as Committee Administrator from 1996 to 2016. John was also a foundation member of the Australian Association of Surgeons, Distinguished Councillor from 1982 and served as President, Secretary and Councillor over many years. He is a Member of the Australian Medical Association, was appointed Fellow in 1985, and received the NSW President's Award in1990 for distinguished services to medicine in NSW. He was also a Board Member of Sydney Hospital for over 14 years and served as Senior Vice President, Chairman of Medical Staff Council and Chairman of the Surgical Research and Ethics Committees and was actively involved in surgical research. In 2010, John was awarded an OAM for services to medicine.
Dr Ashley Bates
Dr Ashley Bates joined the Board and Research Advisory Committee of the Foundation in 2014 and is currently Director of Medical Technologies and Pharmaceuticals for AusIndustry's Entrepreneur's Programme. Ashley obtained his PhD from Heriot-Watt University, Edinburgh, Scotland and worked in the pharmaceutical industry for around 25 years. Starting as a research scientist he has worked in the UK and USA before moving to Australia. Ashley has held positions in new product development, business development at The Upjohn Company (now Pfizer) and GlaxoSmithKline. At GSK he was responsible building their collaborative research program and new product licencing activities. Ashley was the National Executive for Pharma and Biotech with the Manufacturing Excellence Taskforce Australia and served on a number of advisory panels and boards including academic, Cooperative Research Centres and industry associations.
A/Prof Wendy Cooper
Wendy Cooper (BScMed(Hons), MBBS(Hons), PhD, FFSc(RCPA), FRCPA) is a diagnostic pathologist and clinician researcher who is a senior staff specialist in Tissue Pathology and Diagnostic Oncology at Royal Prince Alfred Hospital in Sydney. She is a Clinical Associate Professor at the University of Sydney, Conjoint Associate Professor at the University of Western Sydney and a Visiting Scientist at the Garvan Institute of Medical Research for the Lung Cancer Project of the translational research cancer program. After graduating from Medicine at the University of Sydney with First Class Honours in 1998, she obtained her Fellowship from the Royal Australasian College of Pathologists in 2004. In 2008 she obtained a PhD from the University of Sydney with a thesis titled "Molecular makers of prognosis in early stage non-small cell lung cancer". Her major research interest is in prognostic and predictive biomarkers in lung cancer and she has over 80 peer-reviewed publications.
Dr Noel Chambers (CEO)
Noel was appointed as the Chief Executive Officer of the Foundation in April 2013. Noel has a PhD in pharmacology/medicinal chemistry from the University of Sydney. His work experience includes positions in research, research translation, commercialisation, start-up companies, biotechnology and philanthropy. In the early 90's his patented discoveries in type II diabetes led to a commercial partnership where he lead a team of researchers at the University of Sydney and for which he was presented the Royal Australian Chemical Institute's Biota Award for Medicinal Chemistry. Noel then moved into industry where he held senior management positions in research and business development before becoming the CEO of a number of listed (ASX) and unlisted biotechnology/health related companies. In 2009, Noel's attention turned to philanthropy where he led the establishment of Research Australia's successful philanthropy program as the Director of Philanthropy. He was a member of the Federal Governments Advisory Council for Intellectual Property (ACIP) from 2009 to 2014, advising the Federal Minister for Innovation, Industry, Science and Research and was Chair of the ACIP review into collaborations between Publicly Funded Research Organisations and Industry. The Minister released this report in late 2012.
Emeritus Professor Douglas E. Joshua AO
Prof Joshua was Head of Clinical and Laboratory Haematology at Sydney Cancer Centre, Head of Sydney Local Health District in Hematology, the Alan Ng Professor in Medicine at University of Sydney, and the Director of the Institute of Hematology, Royal Prince Alfred Hospital, until his retirement in 2014. He is presently Professor Emeritus in Hematology at the University of Sydney and Consultant Hematologist at RPAH. He is a member of the SLHD Blood Transfusion committee and of the CEC Blood Watch programme. He is chairman of the Blood Clinical and Scientific Advisory Committee (BCSAC) of the NSW Department of Health .He is the immediate past  Chair of the National ARCBS Ethics committee .He is an advisor to the Commonwealth Department of Health for Clinical Haematology. Prof. Joshua received his BSC, MB BS, and his D Phil degrees from University of Sydney and University of Oxford. He is a fellow of The Royal Australasian College of Physicians and the Royal College of Pathologists of Australasia. Prof. Joshua is scientific advisor and member of the International Myeloma Foundation,past Councillor on the International Myeloma Society and he serves on the editorial board of numerous journals. Prof. Joshua has a long standing interest in both basic and clinical research in Myeloma and has been supported by the National Health and Medical Research Council, Multiple Myeloma Research Foundation, International Myeloma Foundation, NSW State Cancer Council, Cancer institute of NSW , the University of Sydney Cancer Research Fund and the Sydney Foundation for Medical research. He has held sabbatical appointments as a visiting scholar at the University of Birmingham and the Dana Farber Cancer Centre at Harvard. Professor Joshua's main research interest has been in the concept of host tumour control in myeloma and has published extensively on this topic. His group was the first to describe the presence of clonal T cells in myeloma and demonstrated their beneficial effect on prognosis. Currently his group is involved in the concept of active immunization as a potential immunological control mechanism in myeloma, which despite dramatic advances in therapy remains an incurable disease.

Professor Mark von Itzstein AO
Professor Mark von Itzstein is a Fellow of both the Australian Academy of Science and the Australian Academy (2003) of Health & Medical Sciences (2015), and a joint recipient of the prestigious Australia Prize (1996).  He is one of the leading scientists responsible for the design and synthesis of the anti-influenza drug, Relenza®, which has been approved for the treatment of influenza worldwide since 1999. This discovery is considered to be a significant outcome and flagship in glycotherapeutic drug development in the last century and has further consolidated the world platform of using carbohydrates as drugs and carbohydrate-recognising proteins as drug discovery targets. Professor von Itzstein is the Director of Griffith University's Institute for Glycomics which is the only one of its kind in the southern hemisphere and only one of a few in the world. The Institute's researchers collaborate with leading scientists around the globe to build a critical mass around carbohydrate-based research in areas of clinically significant diseases. Professor von Itzstein has a major research effort in the area of drug discovery focused on influenza and other viruses, drug-resistant bacteria and cancer.  He has international standing in glycoscience and drug discovery particularly in the area of anti-infective drug discovery.  Professor von Itzstein has published over 200 papers and invited reviews and has extensively patented his research.

Dr Andrew Cottrill
Dr Cottrill is Chief Medical Officer for HCF, Australia's largest not-for-profit private health insurer. He joined HCF in 2004 and during that time he has been responsible for chronic disease management programs, clinical governance, doctor networks and utilisation review (analytics). He is a medical graduate of the University of the Witwatersrand Medical School (1986) and worked in general practice and primary care clinics in Johannesburg before moving into health informatics where he developed health care quality measurement tools and interventions based on pharmacy and health insurer datasets. His areas of interest are health technology and health information systems that improve the effectiveness of the health care system. He has a commercial background and holds a certificate in management from the University of the Witwatersrand (1998) an MBA from the Cambridge University in the UK (1999) and he completed the Australian Institute of Company Directors Course in 2009. During his time at HCF he has pioneered Australia's largest scale chronic disease management program which has supported 51,000 people with chronic conditions to reduce complications leading to hospitalisation. He is a reviewer for the HCF Research Foundation, a fellow of the International Federation of Health Plans and is a member of their Expert Panel on Clinical Effectiveness and High Cost Drugs. In 2017 he was a member of the Clinical Definitions Working Group of the Private Health Ministerial Advisory Committee for the Department of Health.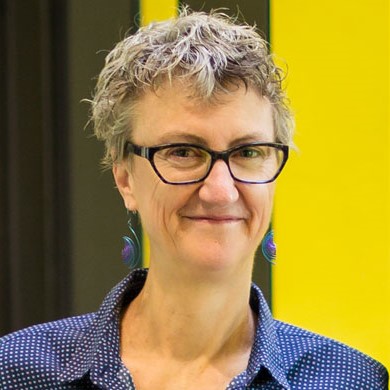 Prof Liz Harry
Liz Harry is a Professor of Biology and the Director of the ithree institute (infection, immunology and innovation) at UTS. She leads the Cell Division and Antimicrobials group in ithree. She has pioneered the use of advanced imaging for bacteria to understand their biology. Liz has also worked with industry in antibiotic discovery and in the use of natural products as effective therapeutics for infectious disease. Liz has been awarded a series of research fellowships: Fogarty Fellowship (NIH, USA), ARC Postdoctoral Fellowship, ARC QEII Fellowship. She undertook post-doctoral research at Harvard University and the University of Sydney. She moved to UTS in 2005. In recognition of her distinguished research contributions she was awarded the 2008 Frank Fenner Award (Australian Society for Microbiology) and received the 2002 Australian Eureka Prize for Scientific Research. In 2016 she was included in the SBS list of six impressive Aussie women scientists. Liz is passionate about effective and successful academic leadership, and in developing a team culture that allows each person to be 'dressed for success'.

Alison Gartner
Alison has a background in molecular biology, biochemistry and economics. Alison began her early career working in financial markets for one of the big four Australian banks. Inspired by the dot.com boom and the Human Genome Project, Alison turned back to her love of science becoming heavily involved in the Australian Life Sciences working in a family office. Alison gained experienced in investing, due diligence and portfolio management, across the sector including start-ups, venture capital, listed equities and managed funds. Portfolio companies included Australian technologies that have been acquired by global pharmaceutical companies and are now successfully commercialised around the world. Alison combines company analysis with access to a broad network of expert advisers, scientists, financiers and service providers in order to review the potential of a product to reach the market and support it where possible through the process. A driver for Alison has been to use her knowledge and network to secure additional funding to further support Australian technologies, via an involvement in the establishment of two new specialist funds.