Previous Award Winners
2018 – A/Prof Wendy Cooper, Royal Prince Alfred Hospital
The National Foundation for Medical Research and Innovation was pleased to offer the inaugural Dr John Raftos Award to A/Prof Wendy Cooper, from the Royal Prince Alfred Hospital.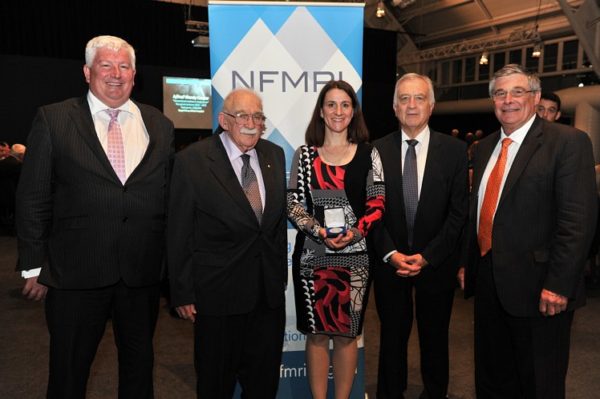 L-R: Dr Noel Chambers, Dr John Dixon Hughes OAM, A/Prof Wendy Cooper, Dr John Raftos, John Harkness
A/Prof Wendy Cooper is a staff specialist in tissue pathology and diagnostic oncology at Royal Prince Alfred Hospital in Sydney with a special interest in lung cancer and lymphomas. Between 2012 – 2015, A/Prof Wendy Cooper received two grants totalling $220,000 to support research focussed on lung cancer and identifying biomarkers that could predict responses to particular treatments – i.e. personalised medicine. This is important as some lung cancer patients with specific changes in the genes of the cancer cells could be targeted with new smart drugs that are more effective and had less side effects than traditional chemotherapy. Funding from the Foundation was provided to enable A/Prof Cooper to collaborate with bioinformatics experts and since then her team studied a group of lung cancer cases that could be targeted by new drugs. An important outcome of this research has been the approval of new therapies and concurrent diagnostics by the Medical Services Advisory Committee and the Pharmaceutical Benefits Advisory Committee (PBAC). Her data has been used by Pfizer and other pharmaceutical companies for this purpose.
Loading
Looking beyond the research and considering translational needs when funding research. How well are your expectations, application and review processes, measures of success and funding strategy aligned with the next steps for translation?
Thank you for voting
You have already voted on this poll!
Please select an option!