Previous Award Winners
2020 – A/Prof Bernard Flynn, Monash University and A/Prof Lenka Munoz, The University of Sydney
The National Foundation for Medical Research and Innovation was pleased to offer the second Dr John Raftos Award to both A/Prof Bernard Flynn from Monash University and to A/Prof Lenka Munoz from The University of Sydney.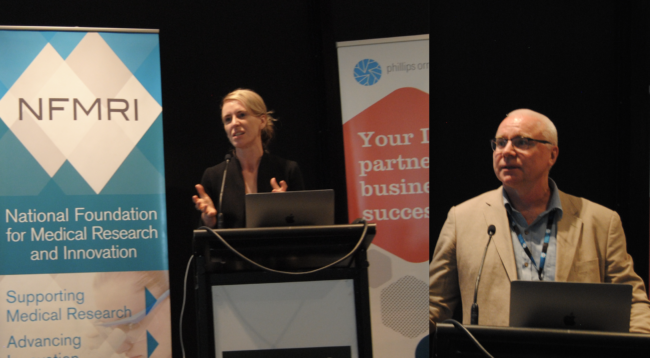 A/Prof Lenka Munoz, The University of Sydney, Improving chemotherapy response rates in brain cancer
The innovation has been licensed to an industry partner

More than $1m in research funding has been directed towards this project with A/Prof Munoz' labs
Since receiving this grant, Lenka has secured tenure and been promoted to Associate Professor
In 2018, they were awarded a $550k development grant from the NHMRC for preclinical development of the 2nd generation drug candidates
A/Prof Lenka Munoz received support from NFMRI from 2013 to 2016.
In a search for ways to limit the spread and to stop lethal recurrence of brain cancer, Dr Munoz' research focuses on the inflammation caused by the tumour as a key to brain cancer progression. This research has found that cells surrounded with inflammation appear to move farther because the inflammation makes it easier for tumour cells to propel themselves through tissue. The more inflammation in the proximity of a tumour cell, the faster glioblastoma cells travel. This project will make this the first group to report that drugs turning off the activity of an inflammatory protein called MK2 are effective in blocking inflammation in brain tumours. Blocking inflammation may prevent the invasive spread of cancer cells into healthy brain tissue, thus preventing the formation of novel tumours and potentially improving patient's response to temozolomide (Temodal) during chemotherapy. NFMRI funding enabled A/Prof Munoz to generate intellectual property, which was subsequently licensed to an industry partner and they are currently collaborating on pre-clinical development. With the molecule progressing towards clinical trials, A/Prof Munoz hopes that soon they will be able to offer patients with fatal brain tumours an effective treatment.
A/Prof Munoz has advised that in regards to the brain cancer drug discovery project, she was successful with an NHMRC Development Grant (CIA) and another two IPs were recently licensed to industry. She confirmed that clinical trials are planned for 2020.
A/Prof Bernard Flynn, Monash University, Novel agents for the treatment of cardiac fibrosis
Established a spin-off company Cincera Therapeutics Pty Ltd
$7m series A investment
A/Prof Bernie Flynn was supported by the NFMRI in 2016-2017, to assist in the optimisation and evaluation of a new class of drug molecules that influence lipid (fat) metabolism. Certain fats are known to contribute to disease more than others, promoting diseases such as type-2 diabetes, fatty-liver disease, heart disease, chronic kidney disease and cancer.
The research undertaken by A/Prof Flynn's group has resulted in the identification of a key enzyme in lipid metabolism that produces lipid metabolites (toxic fats) that are important in promoting the onset and progression of these diseases. They have also developed drug molecules to intercept this enzyme and reduce the production of toxic fats and promote the formation of good fats, that is, fats that actually reverse the disease process!
The NFMRI funding was awarded to the A/Prof Flynn's research group to help fund access to contract research organisations and other collaborators necessary in providing critical data to help A/Prof Flynn's group optimise their drug molecules, so as to afford a safe and effective drug molecule that can be administered orally.
These activities are not usually supported by Government research funding bodies, such as the NHMRC.
The work funded by the NFMRI has been successful and A/Prof Flynn's group now has a set of drug molecules that are effective in blocking this enzyme and from oral administration. These drug molecules are currently undergoing further optimisation and preclinical development in the expectation of nominating the best performing drug molecule to progress to the clinic.
This research has attracted considerable interest from potential commercial partners and it is expected that in the very near future that a commercial partner will provided the funding required to bring the program into the clinic.
2018 – A/Prof Wendy Cooper, Royal Prince Alfred Hospital
The National Foundation for Medical Research and Innovation was pleased to offer the inaugural Dr John Raftos Award to A/Prof Wendy Cooper, from the Royal Prince Alfred Hospital.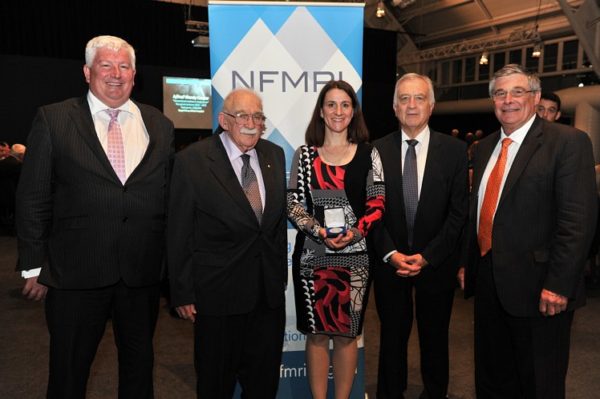 L-R: Dr Noel Chambers, Dr John Dixon Hughes OAM, A/Prof Wendy Cooper, Dr John Raftos, John Harkness
A/Prof Wendy Cooper is a staff specialist in tissue pathology and diagnostic oncology at Royal Prince Alfred Hospital in Sydney with a special interest in lung cancer and lymphomas. Between 2012 – 2015, A/Prof Wendy Cooper received two grants totalling $220,000 to support research focussed on lung cancer and identifying biomarkers that could predict responses to particular treatments – i.e. personalised medicine. This is important as some lung cancer patients with specific changes in the genes of the cancer cells could be targeted with new smart drugs that are more effective and had less side effects than traditional chemotherapy. Funding from the Foundation was provided to enable A/Prof Cooper to collaborate with bioinformatics experts and since then her team studied a group of lung cancer cases that could be targeted by new drugs. An important outcome of this research has been the approval of new therapies and concurrent diagnostics by the Medical Services Advisory Committee and the Pharmaceutical Benefits Advisory Committee (PBAC). Her data has been used by Pfizer and other pharmaceutical companies for this purpose.